Materials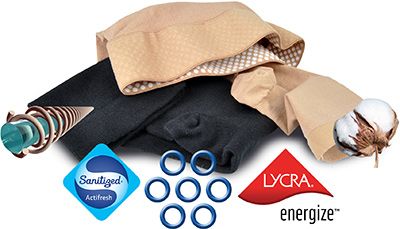 Quality has been of paramount importance to us since the very beginning. We design top-quality products, select and carefully process only the best materials, and strive to add something extra to our products. PAD Nylon (polyamide) is the basis of our stockings. For Avicenum products, we therefore use only the high-quality PAD 6.6 polyamide yarn from leading manufacturers from Switzerland, Italy, and France. LYCRA® has become synonymous with elastane. Avicenum products use this material to create the required degrees of compression. LYCRA® is a guarantee of quality, functional, and durable products. Certificates by independent institutions supplement our strict internal quality management system.
Nylon 6.6
Nylon 6.6 is the default material for the production of our hosiery and so we use only the high-quality PAD 6.6 polyamide yarn from leading manufacturers from Switzerland, Italy, and France.
LYCRA® energize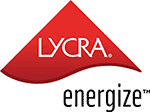 LYCRA® energize is a trade name for high quality elastane whose technological development and innovation is driven by Invista. It is a fibre that guarantees perfect material elasticity. It is the elastane that stands behind the compressive effects of individual products. LYCRA® Soft Comfort is a highly elastic fine fibre. Using this new material, we have achieved greater extensibility of our products while preserving the compression properties of stockings. In practice, the stockings are easier to put on and more comfortable to wear since LYCRA® Soft Comfort better adapts to the leg​ along its entire length, including strained areas where the material often creases and chokes the legs. Thanks to this material, the pressure users feel is milder although the stockings still meet the stringent requirements for effective graded compression. Thanks to this new material that we have started to use in Avicenum compression products, our goods now offer several improvements. The advantages of  LYCRY® Soft Comfort are felt in particular by users of our class 2 and 3 compression products (CCL2, CCL3), namely Avicenum 360 and Avicenum 520.
Sanitized® Silver - Swiss antimicrobial silver ions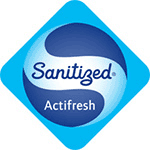 Sanitized® Silver (active biocide ingredient: silver nitrate) is a top-quality antimicrobial treatment from the renowned Swiss company Sanitized®. It excels in its stability, absolute harmlessness, and high efficacy. Sanitized® Silver is based on silver ions and does not contain potentially problematic nanosilver. The Sanitized® Silver treatment is applied in Avicenum products directly to the surface of textile fibres where bacteria and fungi proliferate. Silver reliably fights against a broad spectrum of microorganisms. Silver ions disrupt cell walls of microorganisms causing their death. They reliably prevent further proliferation of bacteria and formation of colonies which often survive even a washing cycle. Silver acts as a deodorant, prevents unpleasant odours, and makes everyday wearing of stockings more enjoyable. At the same time, it protects textile fibres from damage and increases durability. What is more, it cannot be removed by washing.
Microfibre
Microfibre is a polyamide yarn with a high number of capillaries in cross-section. Hosiery made of microfibre has a modern velvety feel and is pleasant to feel and comfortable to wear.